Better Bankside Business Improvement District
In the next five years Bankside and London Bridge will be transformed. More than 15 development schemes representing £4billion of investment will generate 4,500 construction jobs and 15,000 permanent jobs.
The headline figures are impressive, but what do these developments mean for you? dbrief Quarterly is a collaboration by these groundbreaking schemes, working together with Southwark Council and Business Improvement Districts Better Bankside and Team London Bridge, to bring you the stories behind those headlines.
In 2009 Better Bankside, the Business Improvement District for Bankside, commissioned placeworks to write and edit their 'dbrief' communcations on behalf of the Bankside Logistics Group. In December 2010 they won the Mayor of London BIDs Award for Best Partnership. The judges remarked on the excellent communications strategy ensuring stakeholders are aware of major infrastructure developments in the area.
Partners in the Bankside Logistics Group include Tate Modern and Shakespeare's Globe.
d-brief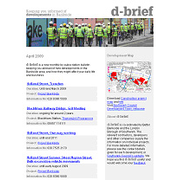 d-brief is a monthly by-subscription bulletin on developments in the Bankside area. If you would like to subscribe, please complete the on-line registration form. To read the latest edition online, click on the thumbnail to the left.
In July 2009 Sarah edited and wrote the first issue of dbrief Quarterly, a printed magazine that explores the stories behind the developments on Bankside in more depth.
If you would like to receive a printed copy of the latest issue of dbrief Quarterly, please contact me via the website. To read past issues online please click on the thumbnails to the left.